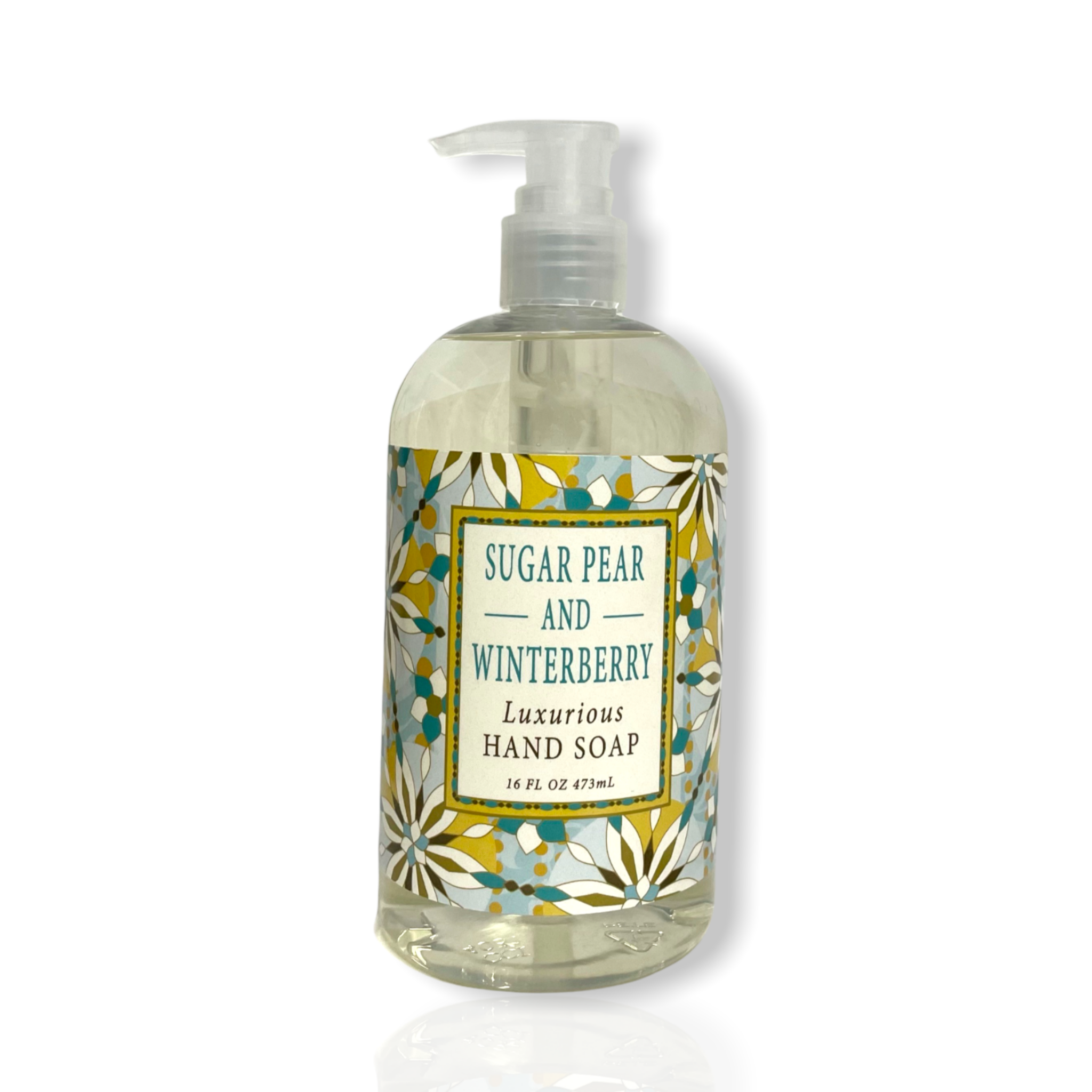 SUGAR PEAR and WINTERBERRY Hand Soap
In stock
Description

Ingredients

Shipping

Reviews
Indulge in the delightful fusion of Sugar Pear and Winterberry with the luxurious liquid hand soap. This exquisite blend brings a sweet and refreshing aroma to your daily handwashing routine, making it a joyful experience.
Why It's a Must-Have:
Dry, Rough Hands: The combination of Shea Butter and Cocoa Butter provides deep moisturization, ensuring your hands remain soft and smooth even with frequent washing.
Seeking a Unique, Uplifting Scent: The unique blend of Sugar Pear and Winterberry creates a delightful, uplifting fragrance that transforms ordinary handwashing into a moment of sweet pleasure.
Need for Gentle, Effective Cleansing: Formulated with Virgin Olive Oil and Vitamin E, the soap gently cleanses your hands without stripping them of their natural moisture, leaving them clean, refreshed, and beautifully scented.
16 fl oz pump bottle
Made in USA by Greenwich Bay Trading Co, America's soapmaker since 1962.
Water, Sodium Laureth Sulfate, Vegetable Glycerine, Sodium Chloride, Fragrance, Citric Acid, Sodium Benzoate, Potassium Sorbate, Vitamin E, Cocoa Butter, Shea Butter, Virgin Olive Oil, Grapeseed Oil, Yellow 5
Currently, we only ship within the United States.
Order Processing: We strive to process your orders quickly, typically within 24 hours on weekdays.
Shipping Options: We ship from Tampa Bay, Florida, using trusted carriers such as USPS or UPS.
Shipping Locations: Currently, we only ship within the United States.
Standard Shipping: Enjoy our affordable flat rate of $6.90 for standard shipping.

We use cost-effective shipping via USPS Ground Advantage or UPS Economy. Expect your package in 3-7 business days from Central Florida.

Faster Shipping: Need your items sooner? At checkout, you have the option to upgrade to USPS Priority Mail (2-5 days) or Express Mail (1-2 days). The rates for these expedited services are calculated by the carrier based on package weight and distance.
P.O. Boxes: We do ship to P.O. Boxes using USPS.
Address Accuracy: To ensure smooth delivery, please double-check and provide an accurate shipping address when placing your order. We cannot be held responsible for any shipping issues or refund shipping costs if the package is sent to the wrong address.
Tracking Information: Once your package is ready to ship, we will promptly email you a notification containing the tracking number. This way, you can easily keep tabs on your shipment's progress.
We hope this information helps! If you have any further questions, feel free to reach out to us.