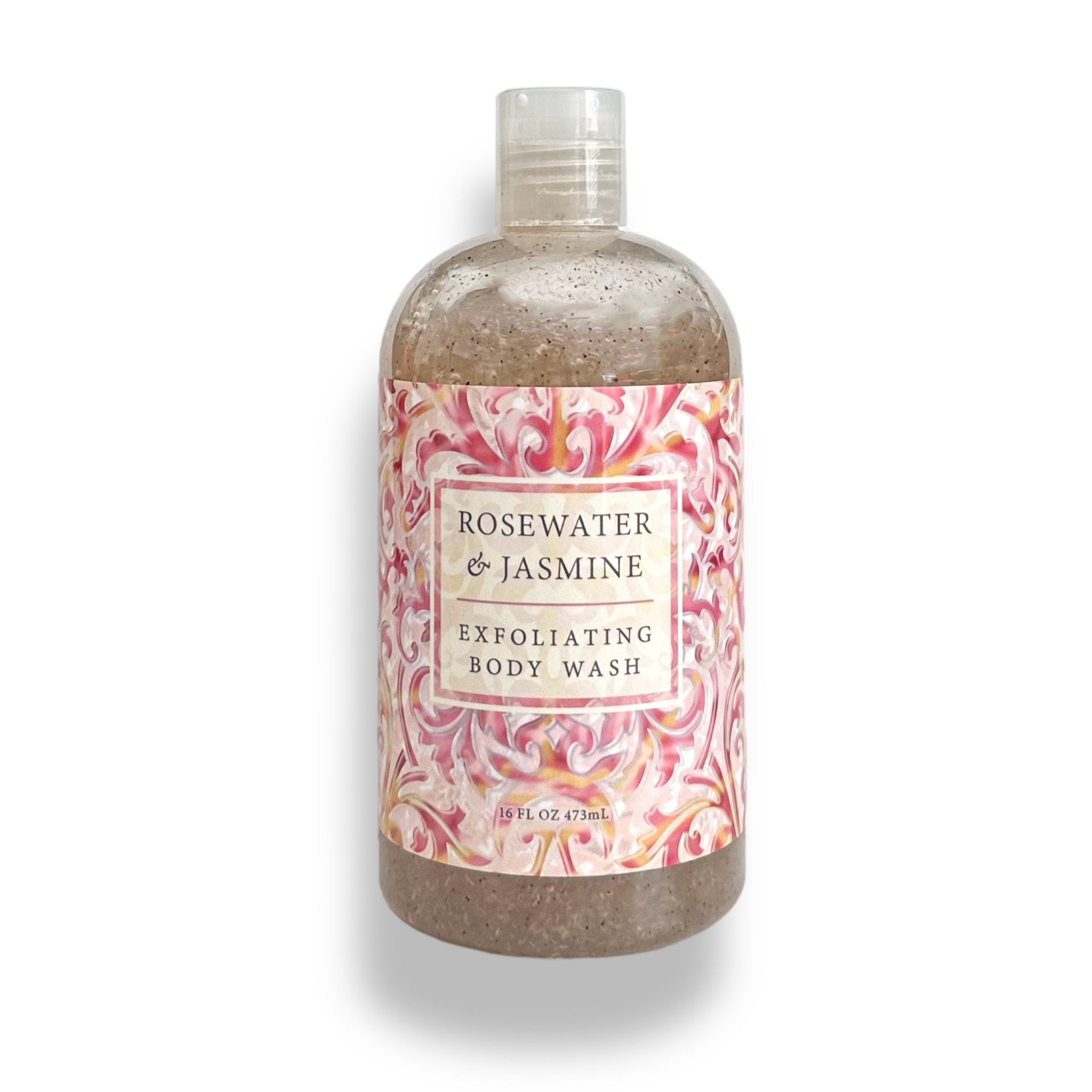 ROSEWATER & JASMINE Exfoliating Body Wash
In stock
Description

Ingredients

Shipping

Reviews
With every use, wrap yourself in a fragrant embrace, allowing the romantic notes of rose and jasmine to whisk you away. The creamy lather and gentle exfoliation promise both rejuvenation and relaxation.
Here's Why It's Your Next Shower Favorite:
🌹 Aromatic Bliss: Immerse yourself in the delicate balance of rosewater and jasmine, creating a relaxing and fragrant haven.
🌾 Natural Exfoliation: With the gentle buffing power of organic oatmeal combined with natural loofah and apricot seeds, your skin will be left feeling smooth and renewed.
🍫 Deeply Moisturizing: The nourishing duo of cocoa butter and shea butter deeply hydrates, ensuring your skin stays soft and pampered.
🌿 Pure Olive Magic: Virgin olive oil adds its moisturizing touch, wrapping your skin in nature's embrace.
💧 Vitamin E Boost: Providing protection and rejuvenation, Vitamin E ensures your skin radiates health and vitality.
16 fl oz flip top bottle.
Water, Decyl Glucoside, Coco-glucoside, Glyceryl Oleate, Vegetable Glycerine, Cocoa Butter, Shea Butter, Virgin Olive Oil, Grapeseed Oil, Loofah, Apricot Seeds, Essential Oils of Rose & Jasmine, Fragrance, Xanthan Gum, Citric Acid, Sodium Benzoate, Potassium Sorbate, Vitamin E
Currently, we only ship within the United States.
Order Processing: We strive to process your orders quickly, typically within 24 hours on weekdays.
Shipping Options: We ship from Tampa Bay, Florida, using trusted carriers such as USPS or UPS.
Shipping Locations: Currently, we only ship within the United States.
Standard Shipping: Enjoy our affordable flat rate of $6.90 for standard shipping.

We use cost-effective shipping via USPS Ground Advantage or UPS Economy. Expect your package in 3-7 business days from Central Florida.

Faster Shipping: Need your items sooner? At checkout, you have the option to upgrade to USPS Priority Mail (2-5 days) or Express Mail (1-2 days). The rates for these expedited services are calculated by the carrier based on package weight and distance.
P.O. Boxes: We do ship to P.O. Boxes using USPS.
Address Accuracy: To ensure smooth delivery, please double-check and provide an accurate shipping address when placing your order. We cannot be held responsible for any shipping issues or refund shipping costs if the package is sent to the wrong address.
Tracking Information: Once your package is ready to ship, we will promptly email you a notification containing the tracking number. This way, you can easily keep tabs on your shipment's progress.
We hope this information helps! If you have any further questions, feel free to reach out to us.