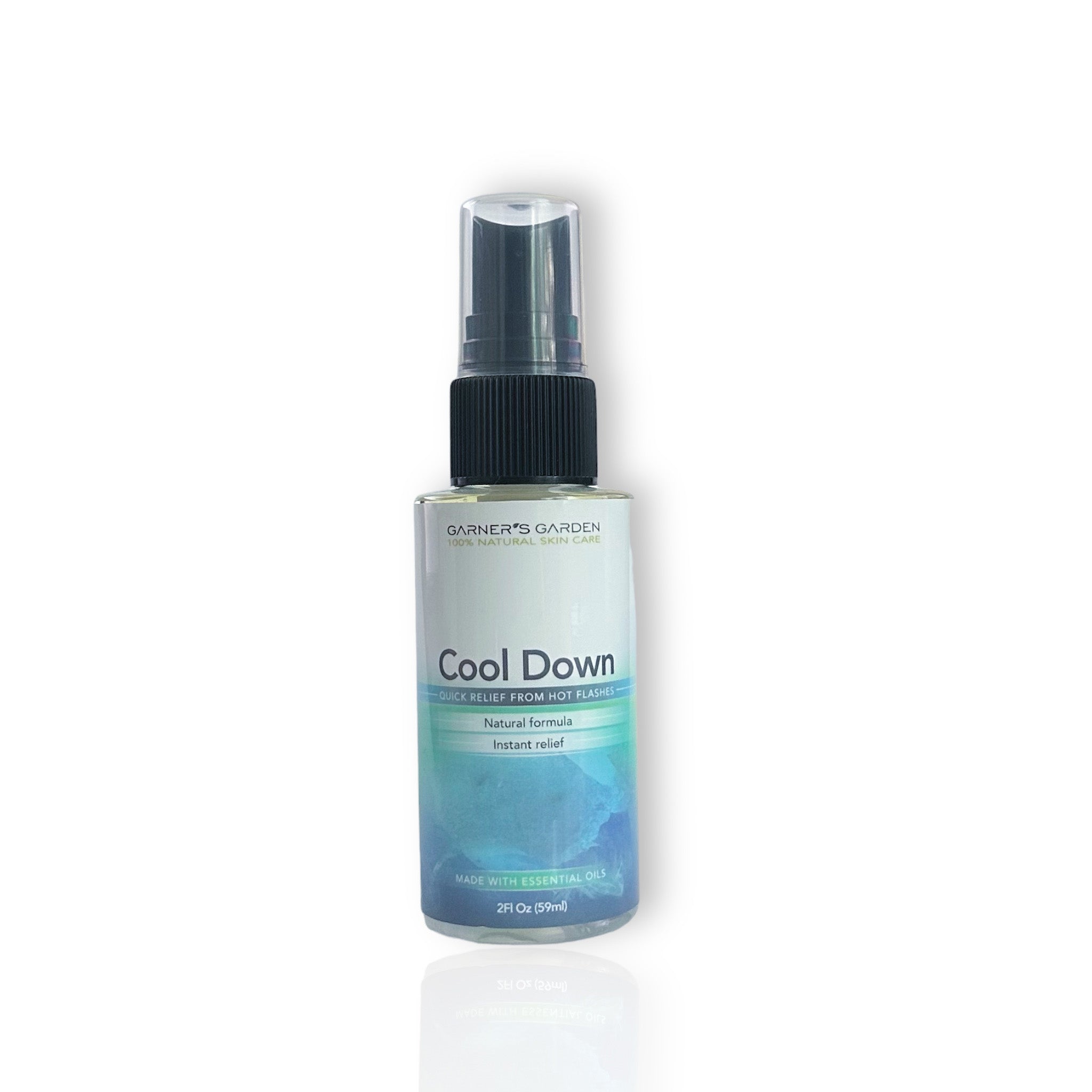 Hot Flash COOL DOWN mist
In stock
Description

The Brand

Shipping

Reviews
The natural formula made with essential oils provides instant relief and hydration for your skin. Use the hot flash relief spray on your body, soles of your feet, and/or pressure points for instant relief.
Ingredients: Witch Hazel, Aloe, Tea Tree oil, eucalyptus and peppermint oil.
Tip: can be used directly on bed linen for a cooling effect.
2 fl oz refillable spray bottle.
Philip Garner started Garner's Garden in 2012 with one thing in mind – make affordable, 100% natural skin care products. Garner's Garden had humble beginnings, first being available at local farmer's markets and at local events. Since then, the company has experienced tremendous growth, and has been featured in national publications, including The Huffington Post and PYNKMagazine. Philip is committed to helping people live healthier lifestyles by creating products that are handmade and are made with high-quality ingredients. Keeping your skin healthy and hydrated since 2012.
Currently, we only ship within the United States.
Order Processing: We strive to process your orders quickly, typically within 24 hours on weekdays.
Shipping Options: We ship from Tampa Bay, Florida, using trusted carriers such as USPS or UPS.
Shipping Locations: Currently, we only ship within the United States.
Standard Shipping: Enjoy our affordable flat rate of $6.90 for standard shipping. We use the most economical shipping methods, such as Parcel or First Class for lighter packages. You can expect your package to arrive within 3-7 business days. Kindly note that our shipping originates from Central Florida.
Faster Shipping: Need your items sooner? At checkout, you have the option to upgrade to USPS Priority Mail (2-5 days) or Express Mail (1-2 days). The rates for these expedited services are calculated by the carrier based on package weight and distance.
P.O. Boxes: We do ship to P.O. Boxes using USPS.
Address Accuracy: To ensure smooth delivery, please double-check and provide an accurate shipping address when placing your order. We cannot be held responsible for any shipping issues or refund shipping costs if the package is sent to the wrong address.
Tracking Information: Once your package is ready to ship, we will promptly email you a notification containing the tracking number. This way, you can easily keep tabs on your shipment's progress.
We hope this information helps! If you have any further questions, feel free to reach out to us.