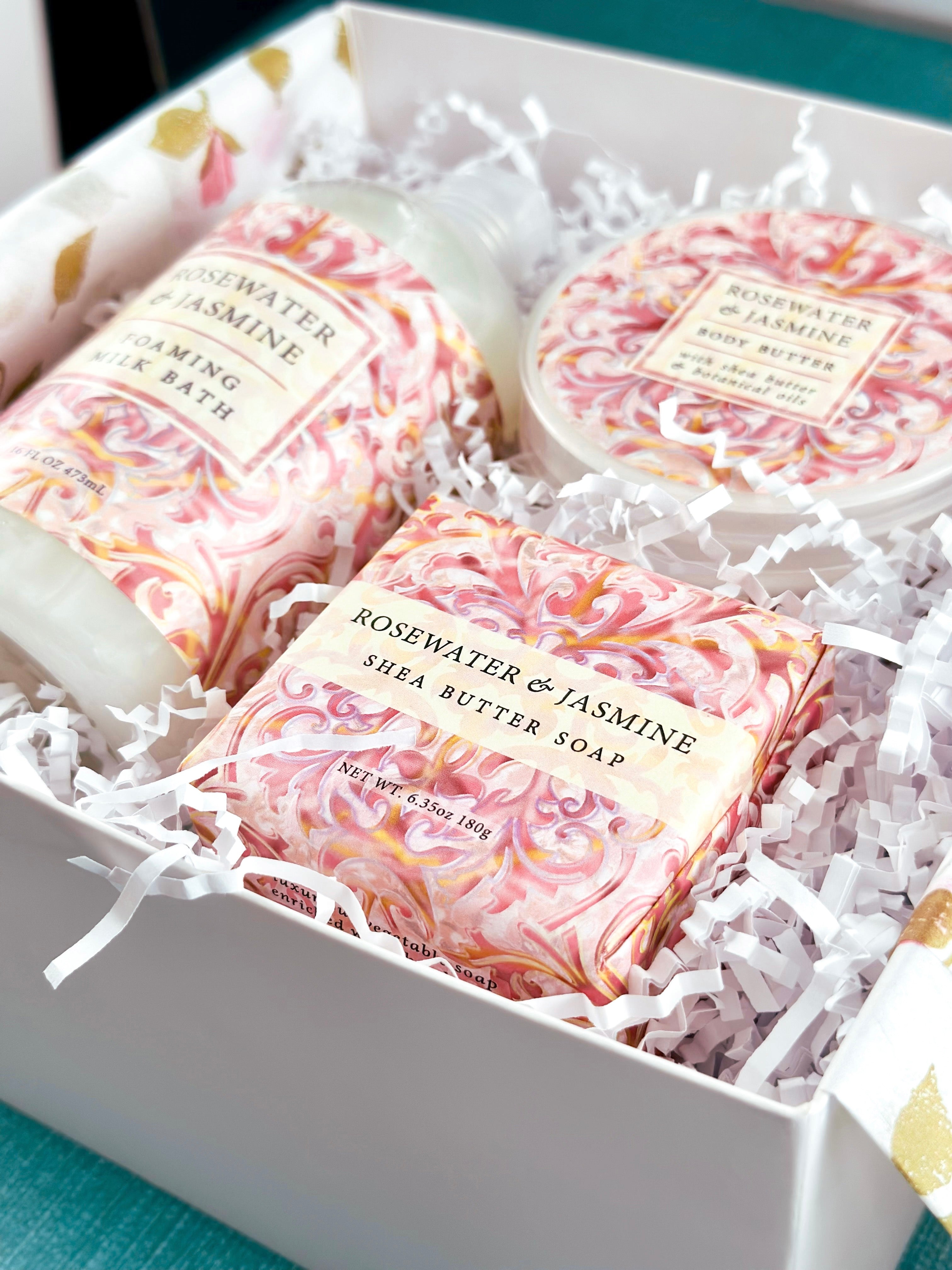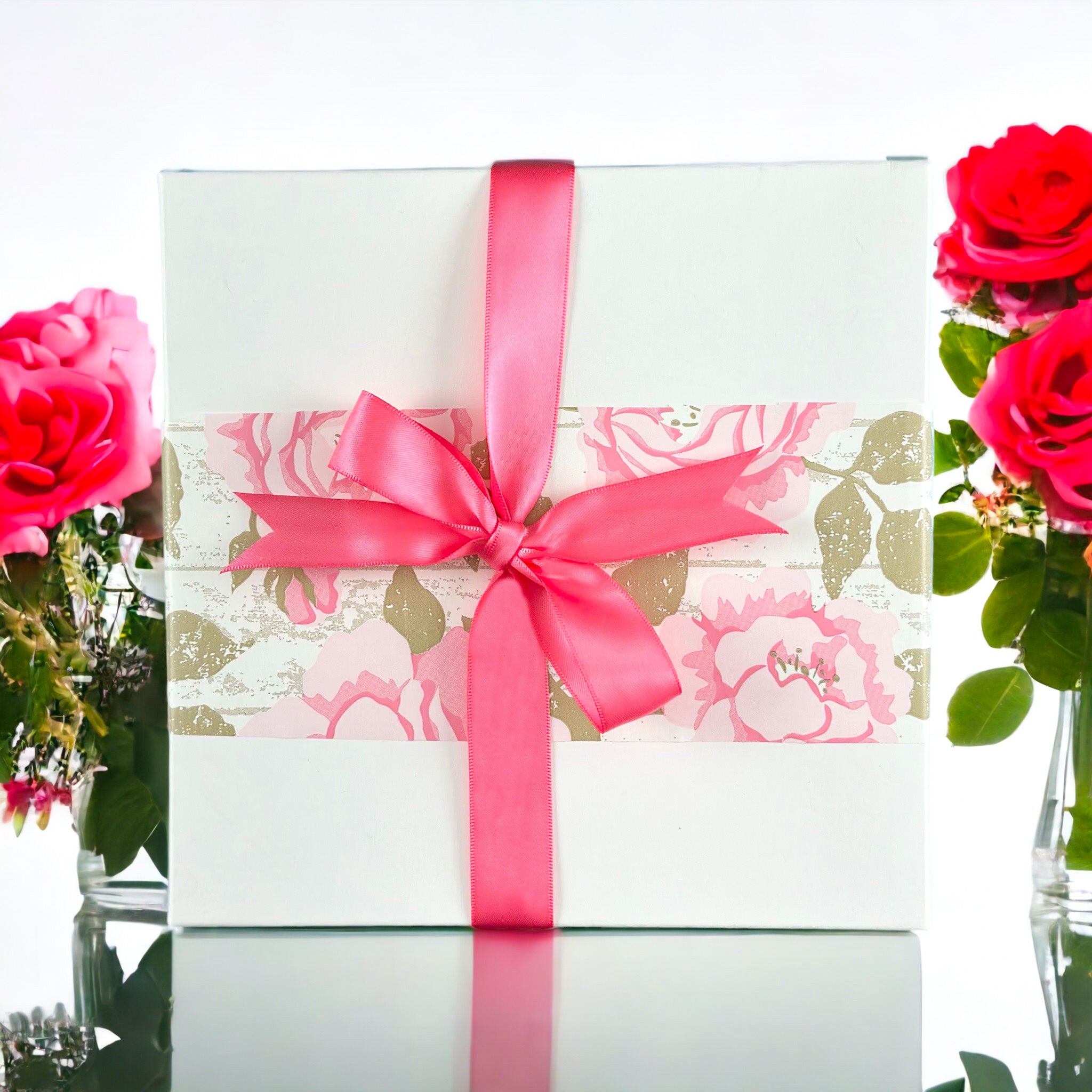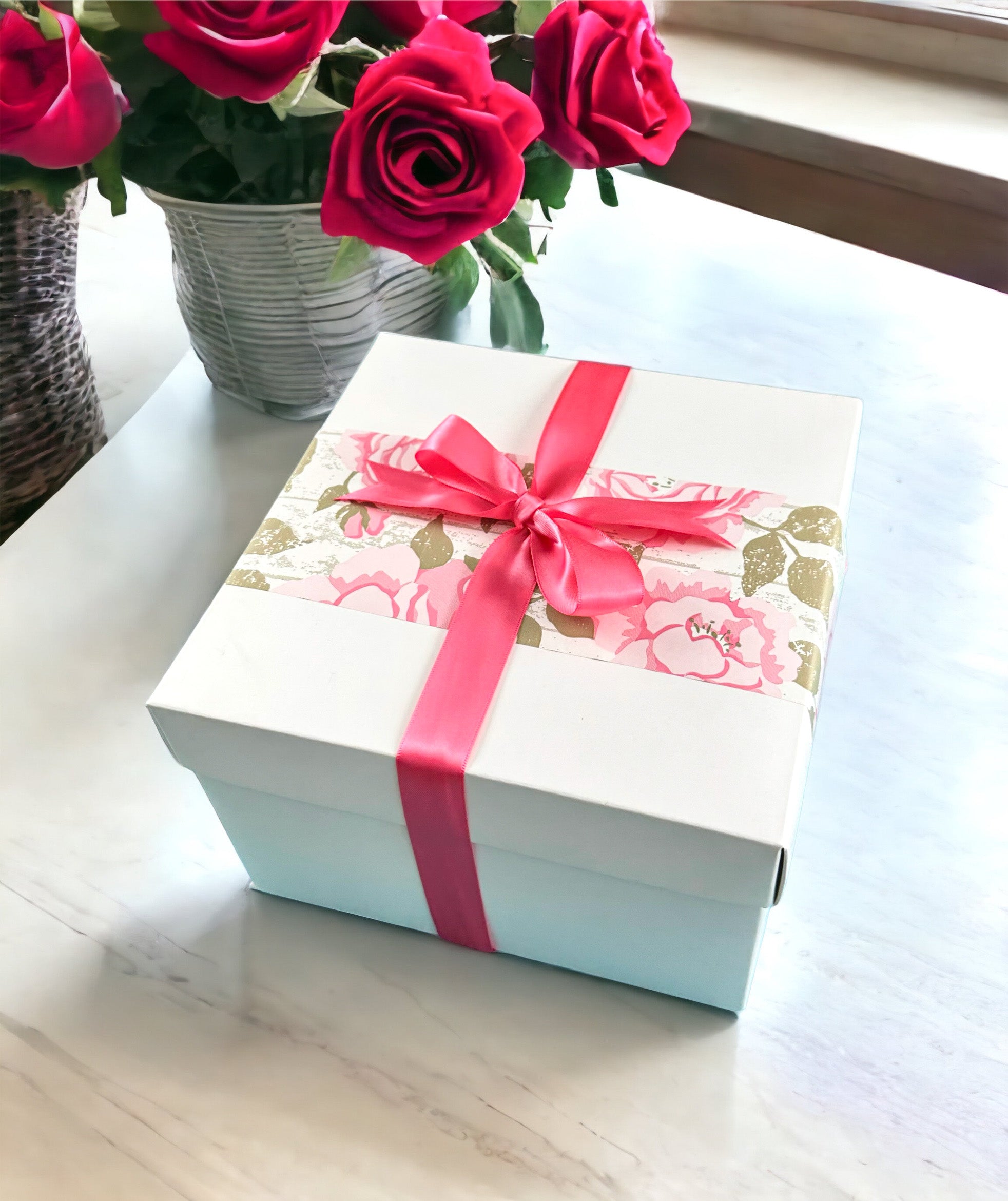 ROSEWATER & JASMINE Gift Set
Only 1 left
Description

Shipping

Reviews
This matching gift set is a delightful treat for your senses and a perfect gift for loved ones. Includes the Rosewater Jasmine Foaming Milk Bath, Body Butter, and Soap. Packaged in a beautiful white box adorned with floral accents and a satin ribbon, it's a stunning presentation that makes this gift set truly special.
Immerse yourself in pure bliss with our Rosewater Jasmine Foaming Milk Bath. Its fragrant blend of rosewater and jasmine creates a relaxing oasis, while the velvety bubbles gently cleanse and moisturize your skin, leaving it soft and irresistibly smooth.
The body butter is a lavish treat for your skin. Enriched with nourishing ingredients, it melts upon contact, providing deep hydration and a radiant glow. The lingering scent of rosewater and jasmine adds an extra touch of luxury.
Complete your bathing ritual with our fragrant soap. Its gentle formula cleanses and revitalizes, leaving your skin refreshed and rejuvenated. The delicate floral scent creates a serene ambiance that uplifts your mood.
Bath milk 16 fl oz - Body butter 8 oz - Soap 6.3 oz
Currently, we only ship within the United States.
Order Processing: We strive to process your orders quickly, typically within 24 hours on weekdays.
Shipping Options: We ship from Tampa Bay, Florida, using trusted carriers such as USPS or UPS.
Shipping Locations: Currently, we only ship within the United States.
Standard Shipping: Enjoy our affordable flat rate of $6.90 for standard shipping. We use the most economical shipping methods, such as Parcel or First Class for lighter packages. You can expect your package to arrive within 3-7 business days. Kindly note that our shipping originates from Central Florida.
Faster Shipping: Need your items sooner? At checkout, you have the option to upgrade to USPS Priority Mail (2-5 days) or Express Mail (1-2 days). The rates for these expedited services are calculated by the carrier based on package weight and distance.
P.O. Boxes: We do ship to P.O. Boxes using USPS.
Address Accuracy: To ensure smooth delivery, please double-check and provide an accurate shipping address when placing your order. We cannot be held responsible for any shipping issues or refund shipping costs if the package is sent to the wrong address.
Tracking Information: Once your package is ready to ship, we will promptly email you a notification containing the tracking number. This way, you can easily keep tabs on your shipment's progress.
We hope this information helps! If you have any further questions, feel free to reach out to us.